Rock Solid Protection Backed by 20+ Years of Experience
We know that claiming HydroShield for Stone™ is the best stone sealer on the market is bold. Our claim is backed by 20+ years of experience and over a million applications. "Trusted" and "proven" are just a couple words homeowners use when asked why they chose HydroShield. Our innovative stone protection is unique. It is unlike any other sealant on the market because of the dual protection it offers. The result is an easy to clean, highly durable and stain-resistant stone.
Your Stone Deserves the Best Protection
Natural stone takes millions of years to be created deep within the earth. Once the stone is located, it takes a tremendous amount of power from man and machine to quarry. The stone is then cut, prepared and exported all over the world by boat, sometimes taking weeks to reach its final destination. Before your stone was installed, it was fabricated and polished with great craftsmanship. It is such an amazing process resulting in a beautiful finish to your home. It is scary to think that stone surfaces can be damaged within a matter of seconds by wine, oils and other household products. Protection should not be compromised and left up to just any stone seal. HydroShield for Stone™ prevents damage before it has a chance to occur and provides peace of mind.
Our dual layer protection is replacing traditional penetrating sealers.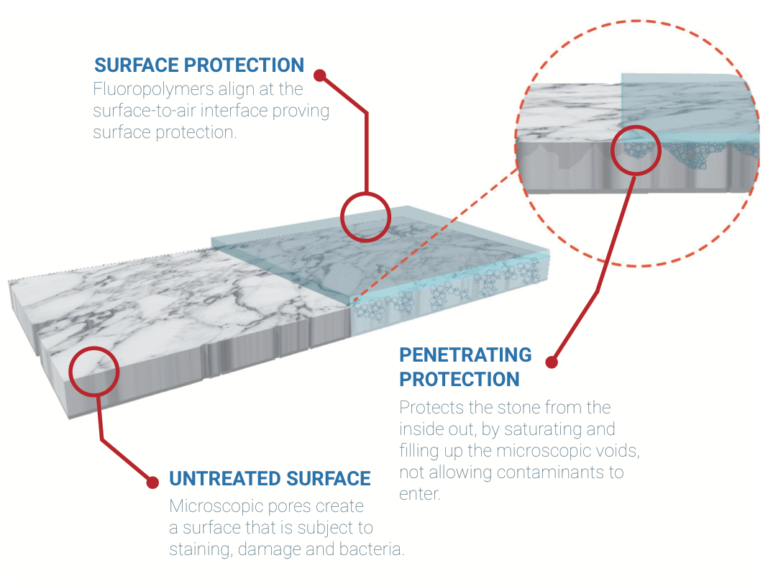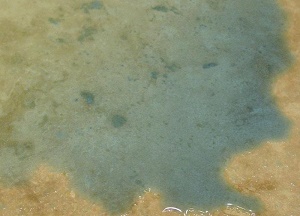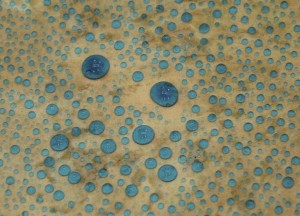 More Than a Warranty, It's Peace of Mind From a Company You Can Trust
HydroShield for Stone™ comes with a 3-year true service warranty. We have locations in the U.S. and Canada. We stand behind every application that we do. If you have a question or concern,  we have technicians that come to you and provide superior customer service.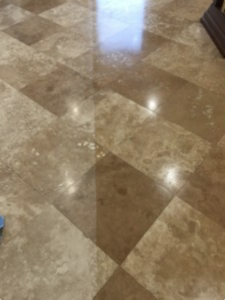 Before & After with HydroShield Stone Color Enhancer
Multiple Options to Enhance Your Home
HydroShield offers multiple choices when protecting your stone. Whether you want to maintain the natural look of your stone or add a color enhancement, we have the best option for you.
Protection, Done Once, Done Right
Each HydroShield application is completed by a certified trained HydroShield technician. This ensures proper bonding, guaranteeing our customer's long-lasting performance and durability. Every application is backed by the HydroShield "True Warranty" program.
HydroShield for Stone in Action:
HydroShield for Stone Advantages:
Outlasts and outperforms all other sealants on the market.

Offers multiple finish options such as natural look or color enhancement.

Non-Fading color enhancement.

Repels both oil and water based stains.

Reduces maintenance time.

Prevents surface degradation.

Eliminates replacement costs.
HydroShield for Stone provides superior protection against staining and helps to reduce etching. The HydroShield for Stone Warranty does not cover etching.
We have solutions for all of your surface protection, sealing and restoration needs. Schedule your free bid today!